Nicki and Vicci are the incredibly passionate and knowledgeable duo from Wildlings Forest School. My family and I have been hanging out with the Wildlings for a few years now and I couldn't sing their praises loudly enough.

They are rebel teachers making waves throughout Australia with their view to a nature led education and it is so exciting to be a part of their journey.
We discuss the benefits of introducing your baby to nature, ways you can safely do so, as well as overcoming that fear of the dirt. Nicki also shares her advice to any first time or expecting parents out there on navigating the early days with your baby.
So grab a cuppa and take some time to hear what nature led learning is all about...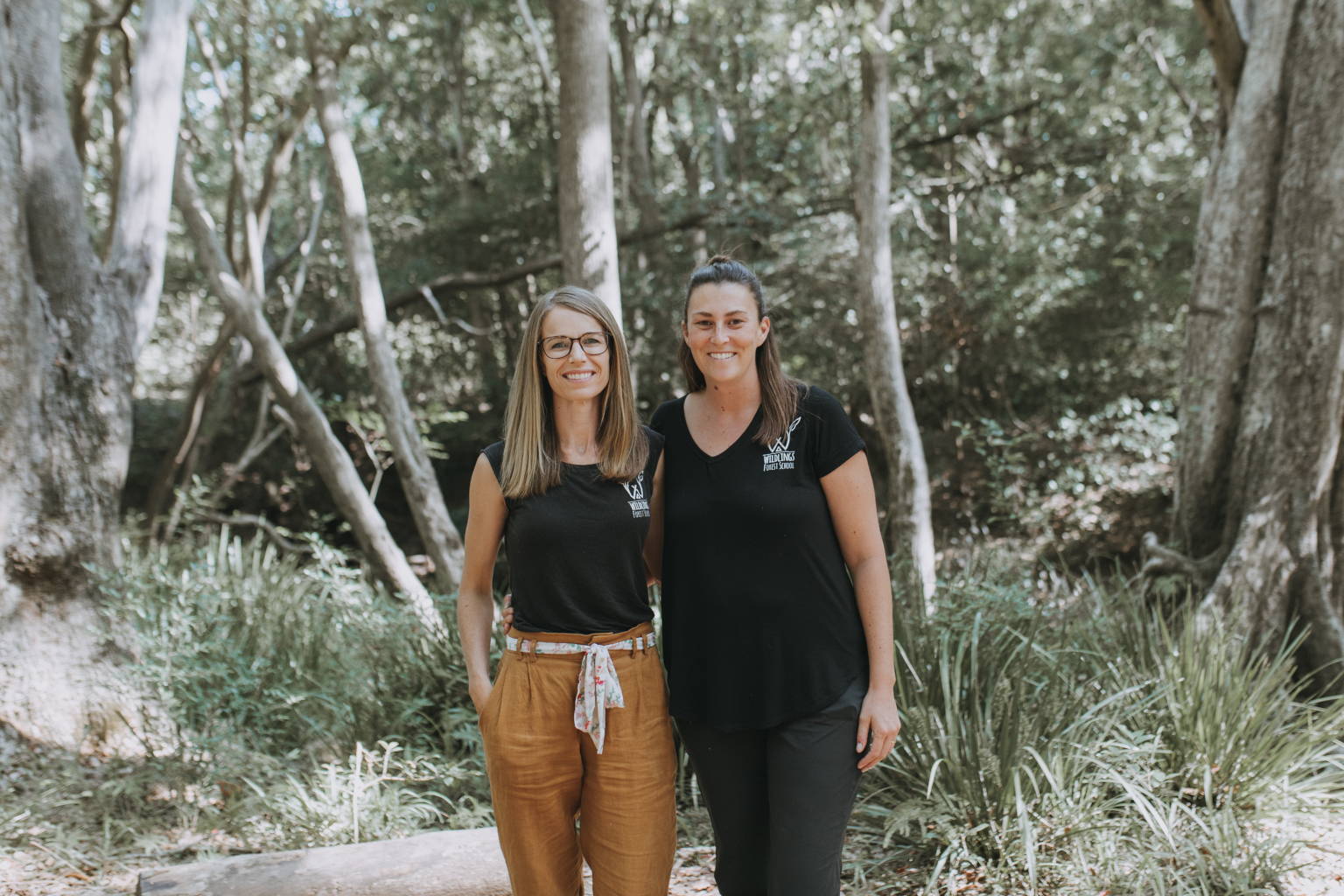 Can you tell us a little about Wildlings Forest School and the amazing work that you both do?
Sure! Essentially, at Wildlings, we put the dirt back in childhood! We're adventure play makers, risk-takers and children's rights advocates.

During any of our outdoor programs, you are likely to find our Wildlings up trees, sliding down mud slides, whittling with pocket knives, lighting fires and building rafts. We let kids, be kids.

Wildlings was started out of a frustration in a lack of movement and nature in our classrooms, and an alarming increase in physical and mental health issues in Australian children.

Our aim at Wildlings is to get more children outdoors connecting with nature, creating the village parents are yearning for and inspiring change in the education system, which is so badly needed.

We have created programs for the next generation of 'natural' born leaders, creative thinkers and people who think outside the box. We do this through our pioneering forest school sessions, our wildly popular holiday workshops and training for educators.

Our programs help develop grit, resilience and other characteristics that will help children to be successful people in the real world.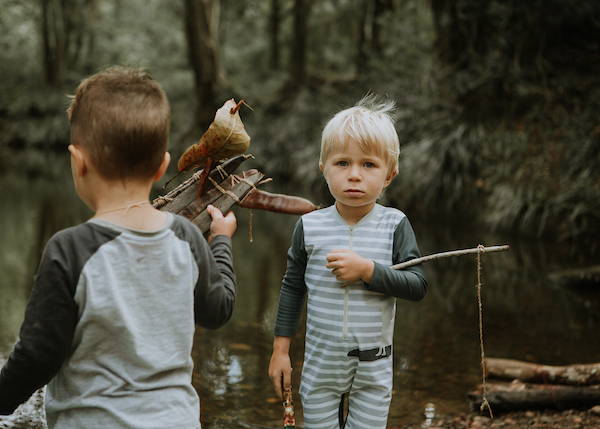 What was the catalyst for bringing Wildings to life?
At the time, my friend now business partner, Vicci and I couldn't find a school that we LOVED for our children where our children were going to thrive and not just be 'fine', so we decided to hold our eldest children back a year (for a variety of reasons, different for each child) and start a home school co-op. It was indoors and whilst the children loved it, it was so much hard work, noise and a bit of behaviour managment for us. It didn't flow. But at the end of each day, we would walk down to the creek to finish the day and the children's entire demeanour and energy changed. They were calm, focused and we couldn't believe that the things we had been trying to teach them indoors was happening so naturally outdoors. We decided to do a Forest School Leaders course and it just all made sense. And Wildlings Forest School was born. From there we have grown really organically from the demand of our families. We now run Nature Playgroups,Forest Kindy, Home School, After School and Holiday programs and professional development workshops for educators on the Sunshine Coast and Brisbane, QLD. We are super busy with festivals, events, guest speaking and corporate adventure play projects that we just love. We have an online shop that supplies quality outdoor tools and toys for children. And we launched our brand spanking new podcast, Raising Wildlings in May. It's all about parenting, alternative education and families that are taking the road less travelled - it's our little passion project and we are just so thrilled with the calibre of guests we've already been able to attain.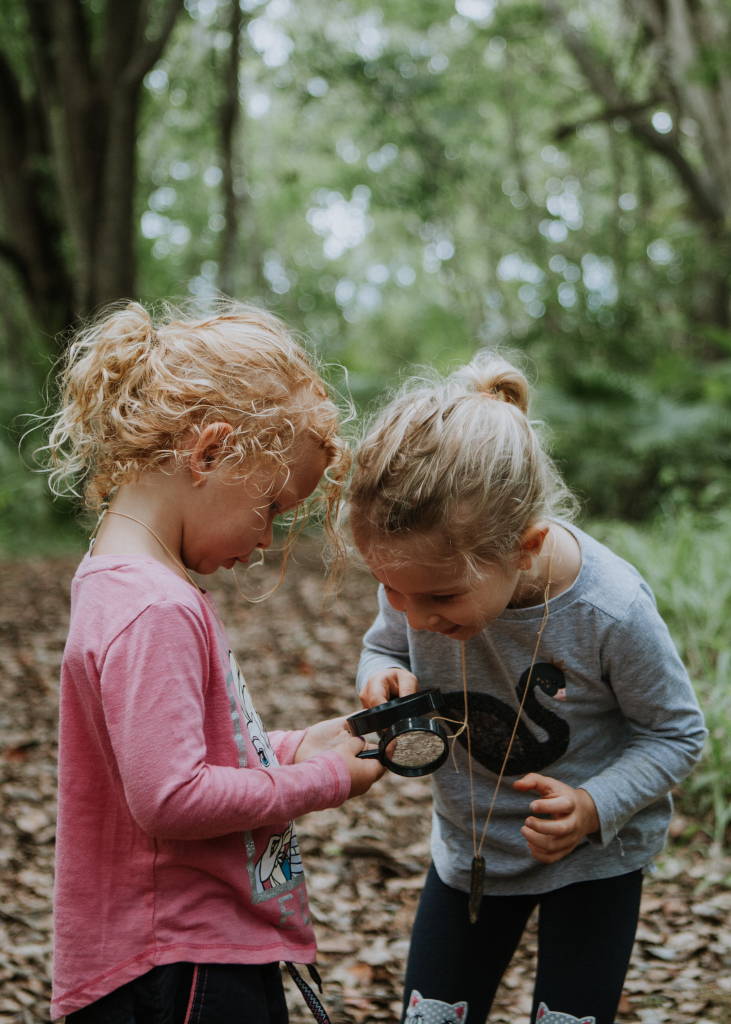 Much of the conventional advice for our babies is usually to protect them from the mud and dirt and keep them wrapped up tight, but research and long held wisdom from around the world tells us a different story. Can you tell us why you believe it is important to introduce our babies to nature and the environment early on in their lives and what these benefits are?
At our most basic level, we are all just animals and need the same things to survive: food, water, sunlight, air. We are hardwired to respond to the natural environment. Being outside can help us, and our babies, relax and in general, makes us feel better. Quite often, taking my babies outside was the only way I could calm them down from a crying fit.

Being outdoors allows us to use our five senses: feeling the wind and sun on our skin, tasting the fresh air, seeing the different colours of nature, hearing the wind and birds in the trees, smelling the earth after it rains – these experiences help us feel more connected to nature.

Being in nature gives babies:

A sense of place and belonging

An appreciation of the natural world

An understanding of patterns and life cycles

An understanding of weather and seasons

A place of relaxation and beauty

Somewhere to experiment with creativity, imagination and problem solving.

Make them feel more comfortable in the world around them

Make them more comfortable with sensory experiences such as dirt and mud
You can read more on this topic over on the Wildlings Blog
here
.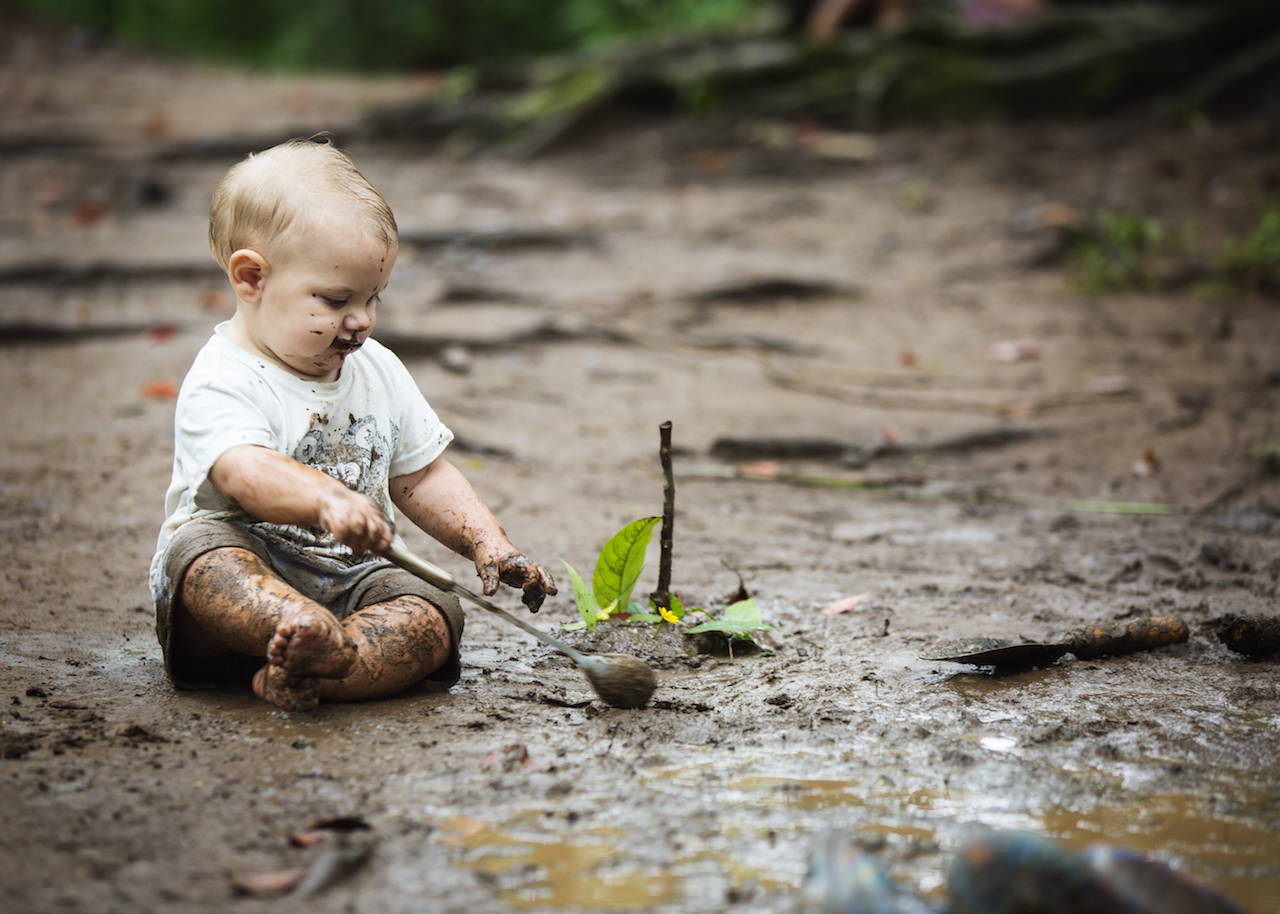 What activities can you include young babies in when you are outdoors exploring?
Letting babies explore gardens with Plants they can taste (herbs, veggies, fruit trees), touch (textured leaves, seed pods), smell (flowers, herbs), hear (rustling, crunching), see (colour, shape, depth, shape), experience (climb, build, cut, hide, pick)

Places to eat and picnic - time in nature enables children to explore the wonder of nature of their own free will. Time, space and a shared wonder are medicine for us all.

Places to crawl, hide, climb - remember that this generation of children is the most 'observed' generation in history. Anytime you can at least give your child the feeling of being unseen by adults (we all know how good they are at hiding!), is good for their independence.

Letting babies explore undulating surfaces, ledges, benches, logs to balance on, stepping stones to hop over

Safe water, sand, mud play - honestly, the beach is your best friend and a digging patch in your garden (sand or mud) will give you hours to enjoy a cup of tea

Swings are so calming for babies and bridges add excitement and a feeling of risk
Have you got any tips for parents on overcoming those feelings of anxiety when it comes to first introducing your child to the wild and the dirt/germ phobia so many adults tend to experience?

Join a Nature Playgroup or Forest Kindy like ours that teaches you how to keep you children safe in nature, or get together with friends. Nature is FAR more fun with friends and extra eyes and we all parent better with friends around!

Follow social media accounts that promote taking babies outdoors as normal. Many times the only places we see babies in social media is at home or in a cafe (and we all know how fun babies are in cafes...), so normalising your feed to show others that are taking their babies outside. You can find us here.

Babywearing - this way you can keep your baby close if you're out in nature and there's something you're not comfortable with them playing with (say a dog off the lead or dog poo) and then being able to let them explore where you do feel comfortable.
We are seeing an increase in 'helicopter' or 'lawnmower' style parenting. Can you briefly explain how this cautionary parenting style affects our children?

Going a step further than your typical hovering helicopter parent, the lawnmower parent gets ahead of their child, smoothing and clearing the path before they have even taken a step outside.

No doubt all parents will agree that one of the hardest parts about being a parent is watching their child experience pain, or struggle through situations that cause discomfort or unhappiness – no matter how temporary.

However, risky play is actually very beneficial to childhood development. Learning mastery through play and exploration helps to encourage a child's self-confidence and well-being, as well as offering them the experience of engaging with their natural environment.

Children that learn to manage risk in a developmentally appropriate way are more likely to be able to regulate their emotions surrounding fear and anger. Learning how to manage and assess their own levels of risk and danger is a vital life skill.

When children are in charge of their own play, through risk-taking, decision-making and problem-solving, they begin to master a repertoire of skills that will guide their decisions surrounding limits, boundaries and personal safety throughout their entire life,

For all those 'parents to be' out there exploring nature led parenting, what is the one piece of advice you would love to share, or even a great book to read, as they begin their journey?

The only advice I think a parent should ever be given, is do what feels right to you. Listen to your own gut instinct over anything. Over the way you were parented, over the way your partner thinks you should parent, over the parenting books and mainstream TV shows. You have millions of years of evolutionary knowledge woven deep into your bones. Listen to those bones. Your baby is just like any other mammal in the world and needs to be close to its caregiver in the first thousand days.

As far as a baby product, a baby carrier hands down. Out of all the things I was given at my baby shower, the carrier was used the most. Honest to god. It saved my sanity as a parent and gave me the freedom to still exercise and explore the natural spaces that kept me sane and feel I still had a sense of freedom, while still being able to honour my children's nap times and need to be close to me.

And my favourite parenting book is Heart to Heart Parenting by Robin Grille. It came to me when my first born was about 6 months old and I was pulling my hair out reading the advice of other mainstream parenting books about sleep, weaning, solids and daycare. It wasn't resonating with me at all. Then I read Heart to Heart Parenting and everything made sense. It essentially taught me to follow my own parenting instincts about what was right for me and my baby. It sounds so simple now, but in a world of information, that was really the one message I needed to hear.

I was so excited to see your new Podcast drop last week, and as a newbie Homeschooler myself, I soaked in all the wisdom you shared! Skies the limit for Wildlings Forest School, so tell us, what's next for you guys?

Awww, thanks! It's a pretty exciting stage of our business. We've been able to spend this down time working on some creative projects that we've wanted to do for years. We're working on some online courses (think Respectful Parenting, Wildschooling, Unschooling, Campfire Cooking) and hopefully a children's book in the next year. Eeeek! It's out there now, we have to do it!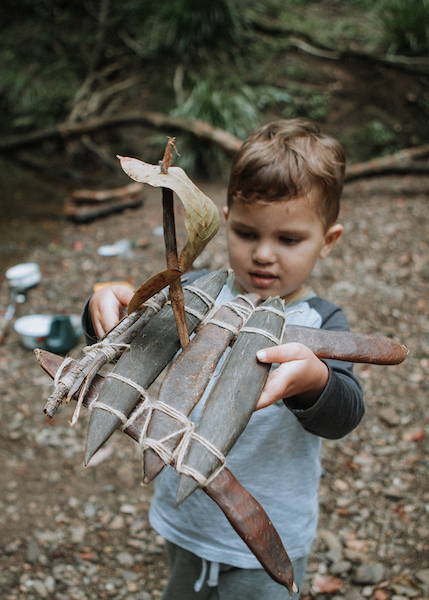 Finish this sentence: I am always inspired by…

the innate power and wisdom of women and nature.

To connect with Wildlings and their incredible adventures, you can find them below: