Meet the radiant Max. Max is a self confessed adventure seeker living life in and out of her 1968 Kombi van.
Max is one half of Maxine & Karstan - the talented design and reno duo who appeared on the TV series, The Block.
I have loved following along with Max's beautiful journey of kombi van travels and was so excited to get to chat with her about all things adventure and family.
Come in and get to know this gorgeous mama...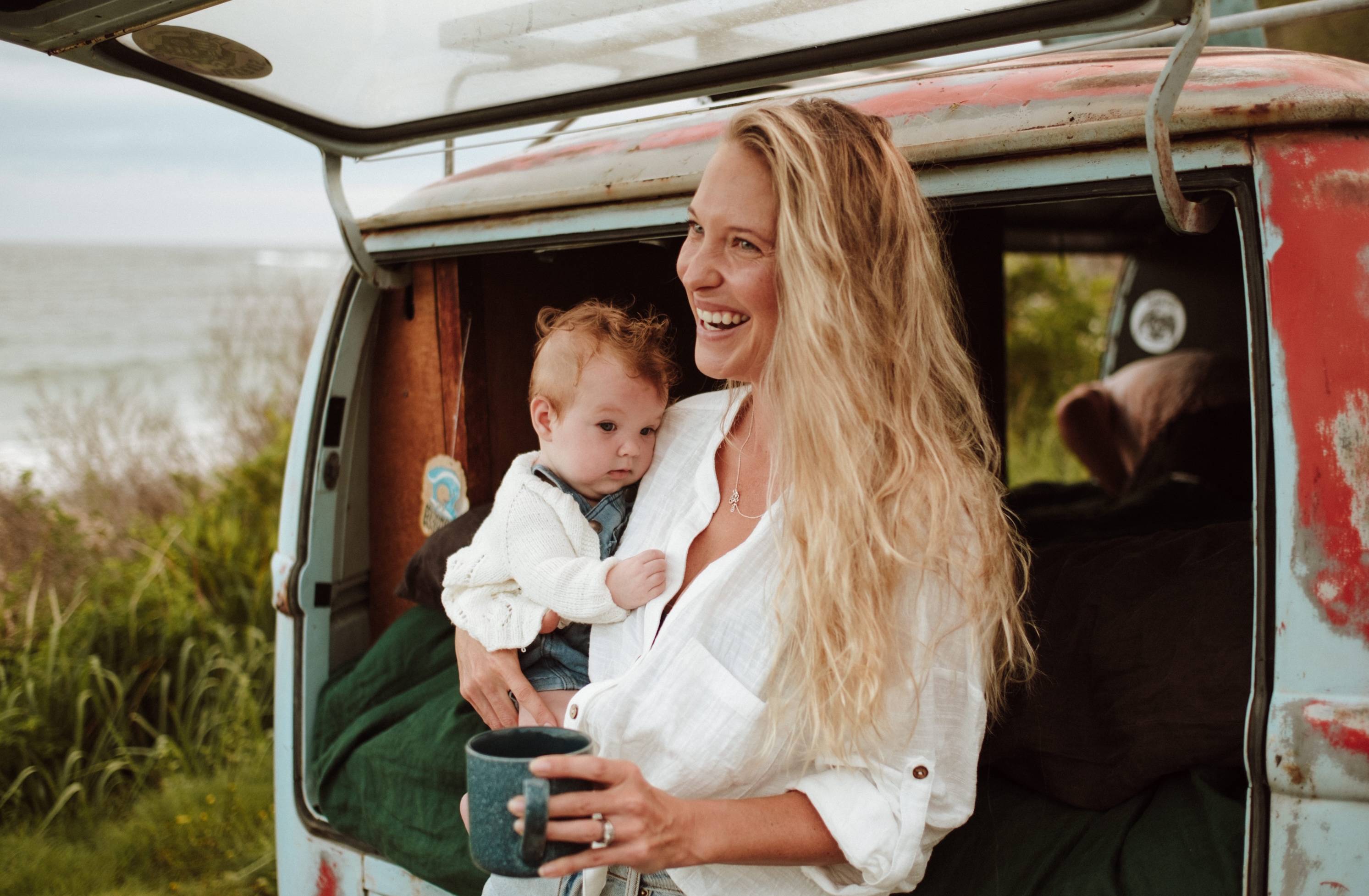 Who makes up your gorgeous family?
We are a very happy family of four which include myself (Max), husband Karstan, beautiful daughter Zuri and our fur-babe Duke who is a gorgeous almost 8 year old black Labrador.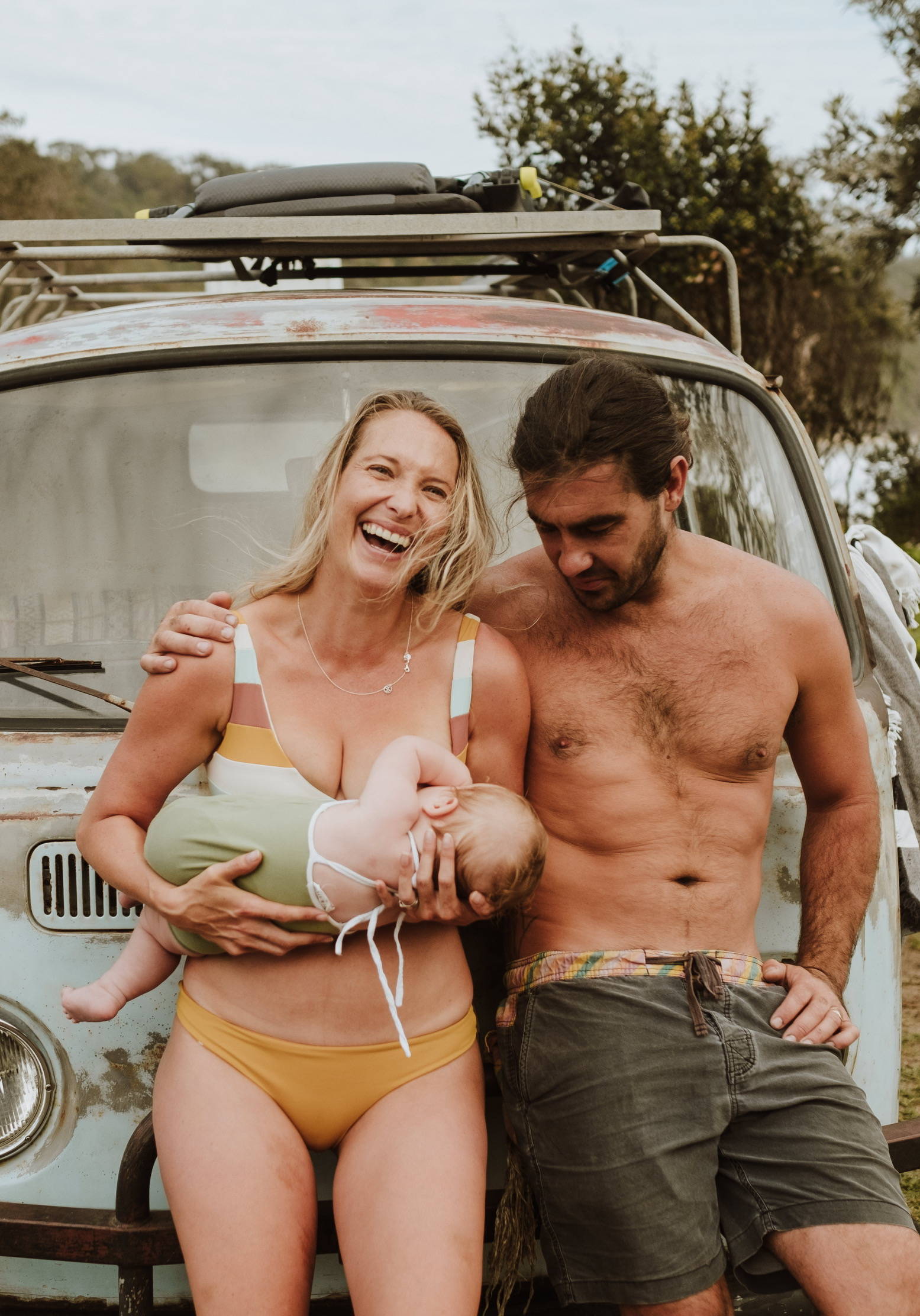 Newcastle in NSW is our home, both Karstan and I were born here. It wasn't always our plan to settle in Newcastle. We left for a trip around Australia back in 2009 in our first Kombi, with the goal of finding our perfect place to call home and although we came across many beautiful destinations and communities - nothing compared. But if I am completely honest, just being together in our Kombi always feels like home and gives us very happy hearts.

What are some of your favourite adventures you do together?
Our favourite thing to do is get on the road in our 1968 Kombi Panel Van - driving is all part of the fun. Depending on what season it is, our adventures take us up and down the coast line and inland to some really magical places. Our most memorable Adventures are the ones that aren't planned, where we pack the van and just see where the day takes us. The people that you meet in small towns are just beautiful (both the locals and those who are travelling), we've made some life long friends from our tips which is pretty special. Plus squishing the family into a Kombi is an adventure in itself - it's a very tight squeeze...but that's all part of the fun.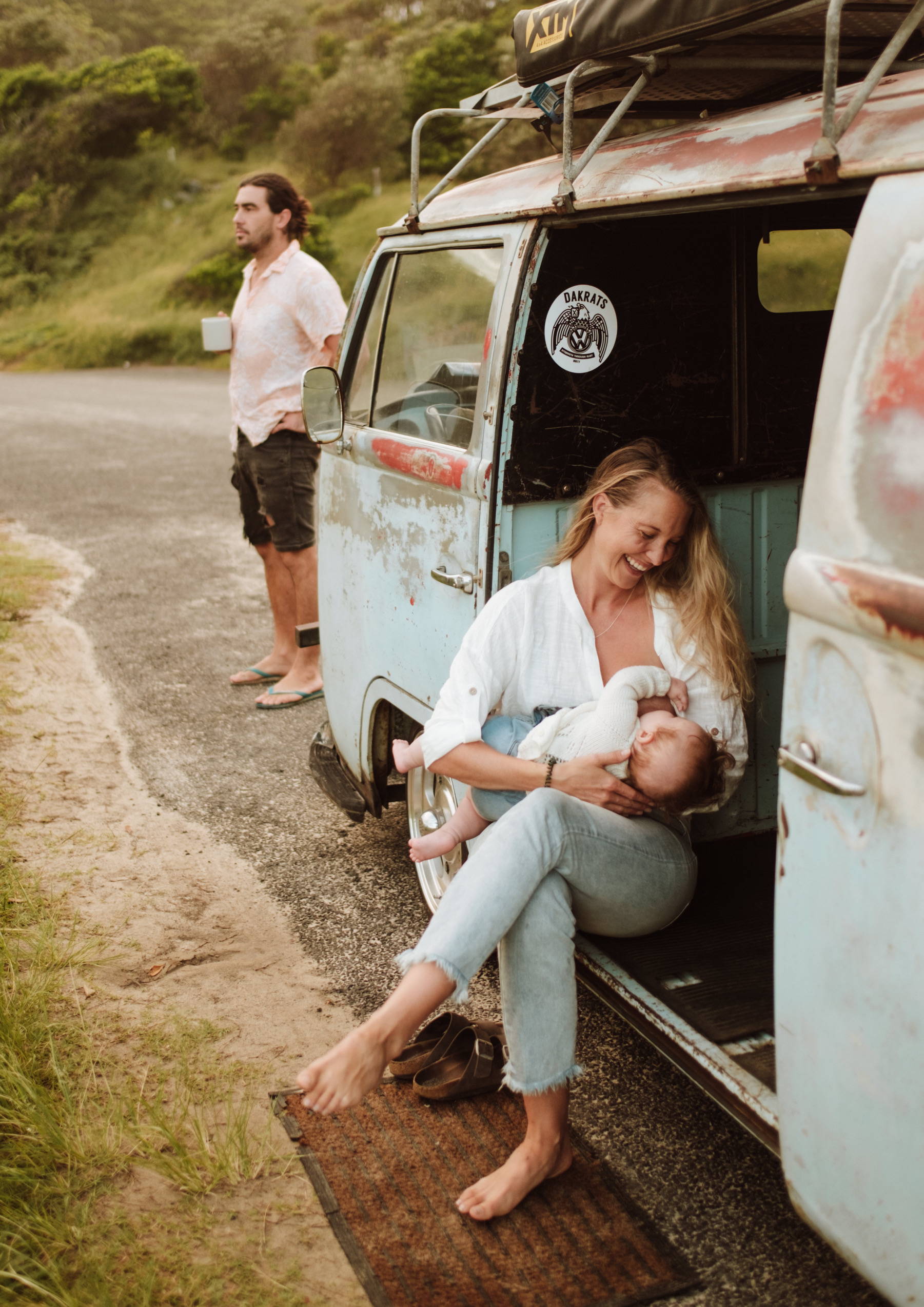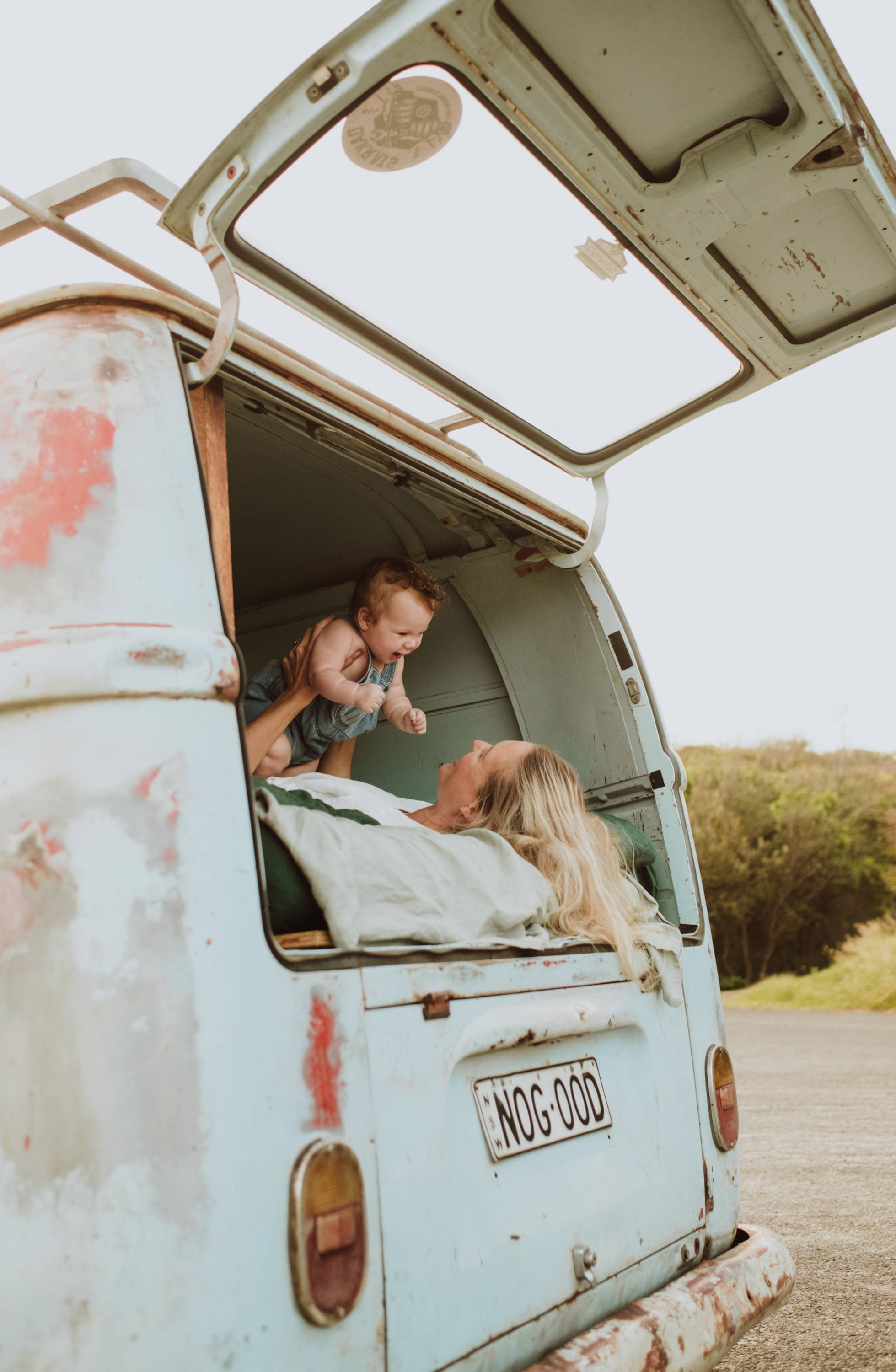 What has baby wearing given to you and your family?
Honestly until I became a Mama I never knew just how life changing these magical contraptions are (I am such an advocate)! We have a pretty simple approach to parenting and baby wearing is a daily essential, just like coffee and wine :). I have worn Zuri on my chest since the day we left the hospital. We literally left the hospital in the morning and then went to our friends art exhibition (wearing Zuri) and she snoozed the whole time (gosh that felt amazing). Our Zarpar Bebe comes everywhere with us and is used for everything... whilst I am cooking, cleaning, exercising, shopping, socialising and adventuring. Zuri can sleep for hours in her carrier, and when she is awake she loves going on walks and exploring. We've climbed mountains and been on some big explorations - which were only made possible because of our carrier.

What does self-care look like for you in this season of motherhood?

Self-care is simple for me, it's having an ocean swim with my family and soaking up some rays on my skin. Nothing compares to that feeling, it's an instant recharge.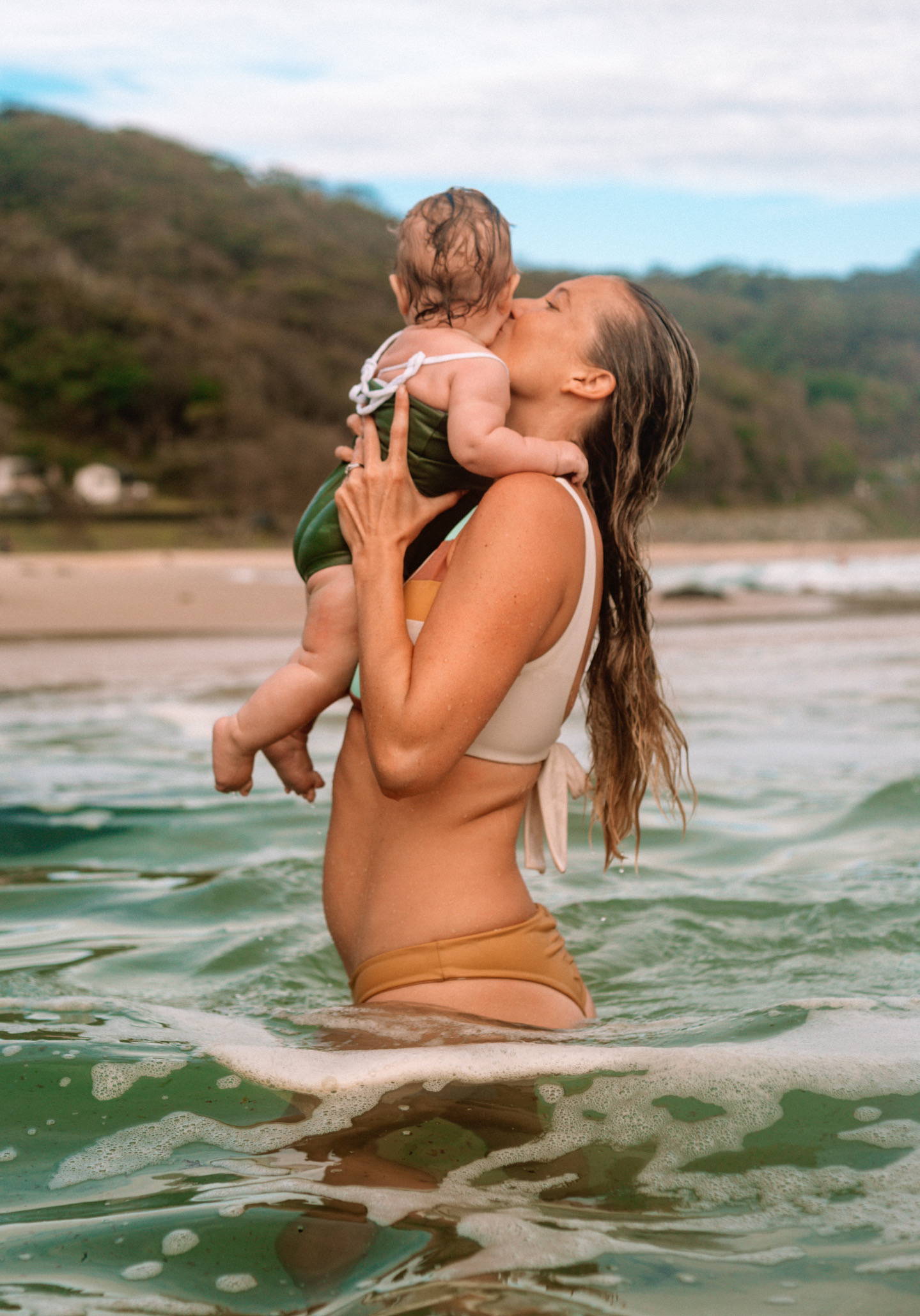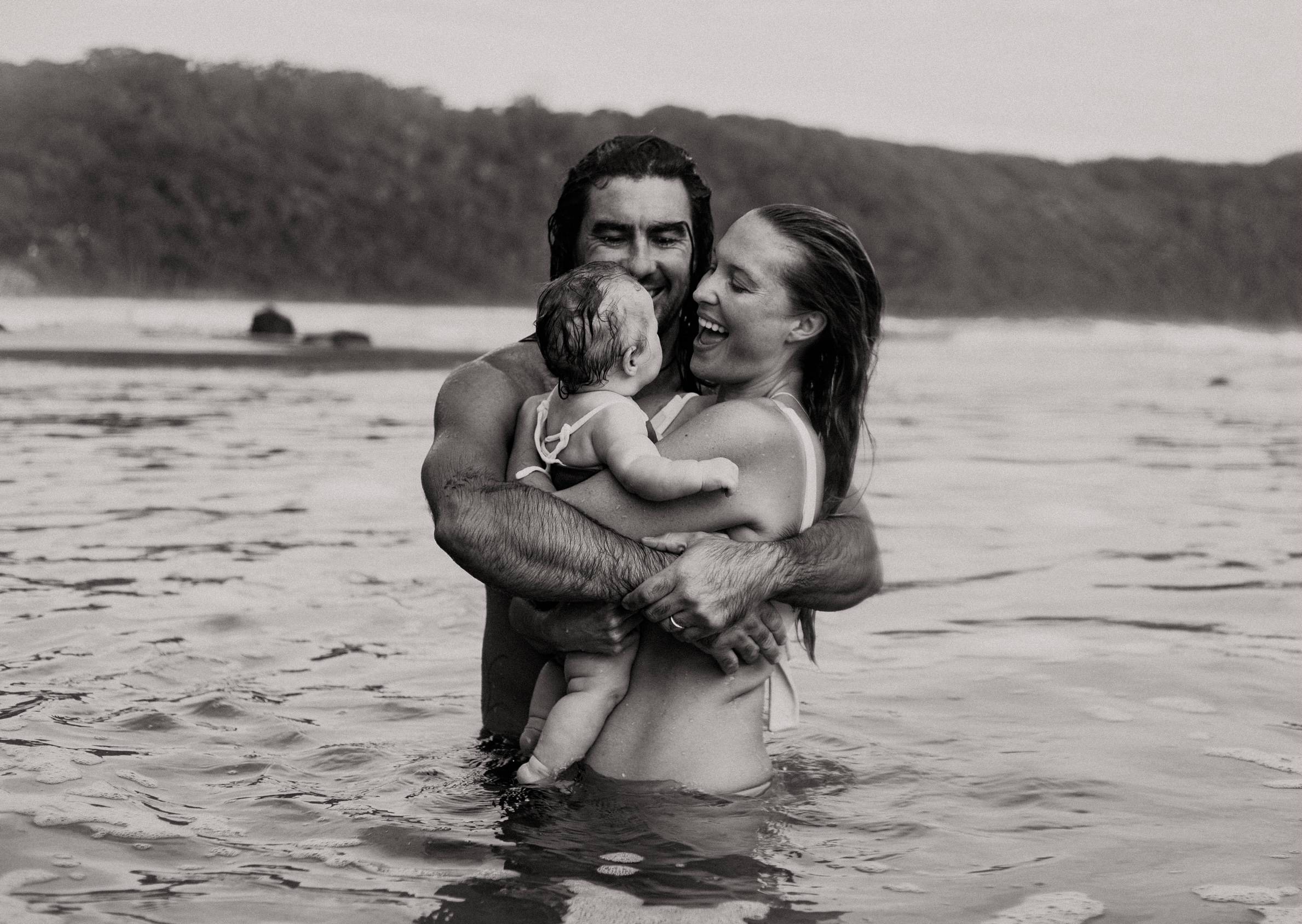 Have you had to change any styling in your home since welcoming a new life in?

In short - no we haven't, other than the essentials (adding in a bed and change table). We renovated our house a couple of years ago and pretty much gutted the entire space down to a shell and then created our dream home. Karstan is a carpenter so we had fun being creative. It's an old gun barrel minors cottage. Our style is very simple, using natural materials as much as possible and incorporating elements of the old house. We don't like to over complicate anything in life and feel that if we need something we will buy it, Zuri coming into the world made me want less in our house. I'd like to become even more of a minimalist, but i'm also battling with a hoarder husband. It's a work in progress :)

How has becoming a Mama changed your approach to business?

I am currently off on maternity leave, if by business you mean LIFE :).... my approach to life is stronger and happier than ever. I want to be the best version of me for my girl and I want to show her just how incredible the world is - I want us to be out in nature more, exploring and experiencing as much as possible. Being a Mama is such a privilege, I now, more than ever pay less attention to what time or day it is and more attention to just being present and enjoying every second we have together as a family.

We are obsessed with your Kombi... Can you tell us more about your van adventures that you have had and that you are dreaming up?

YES!!! We are obsessed with our Kombi too! Karstan restores old VW's so they are huge part of our life. Our van life adventures started back in 2009 when we took off on a 12 month trip around Australia. We travelled over 40,000km and made some unbelievable memories (it literally changed our life)! Since then we have done lots of short trips away which are lots of fun, but our plan for a very long time has been to do a big trip around Australia again. We don't know when this will be, but when the time is right it will happen and it will be super special now that we are a little older and wiser and with Zuri and Duke by our side.

If there is one place in the world you could take your family tomorrow, where would that be and why?

Ohhhh that's tricky - definitely somewhere in Australia... seeing Ayres Rock would spectacular. But I also can't go past WA - We travelled that coastline 10 years ago and are so eager to return. It's paradise over there.

Click the button below to follow along with Max and her families journey on instagram.

Max enjoys our Eucalyptus Snap Carrier