Hip Carry - Starting from Front Inward Carry
Wearing tips in your Snap Carrier
Breastfeeding in your Snap Carrier
Newborns only to be carried when using an insert or similar

This Carrier is NOT designed to wear your baby in a front forward facing position.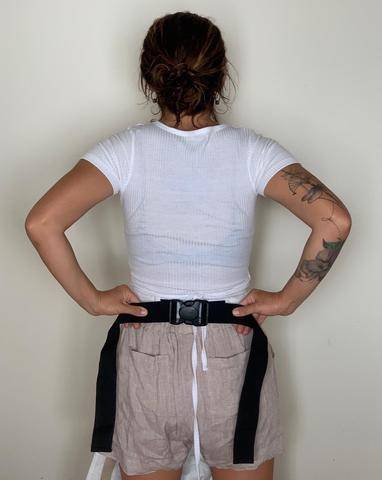 SECURING THE WAISTBAND
You will need to ensure the waistband straps have been pulled tightly and are firmly secure, you should barely be able to fit a finger between your body and the waistband - this will create the foundation for your baby to be properly supported.
Ensure that the carrier is secured around your natural waist, this is advisable for all carry positions. Any lower and it will compromise the overall safety and comfort of the carrier.
Finding your natural waist is simply the space between the top of your hip bone and the base of your rib cage - this goes for both men and women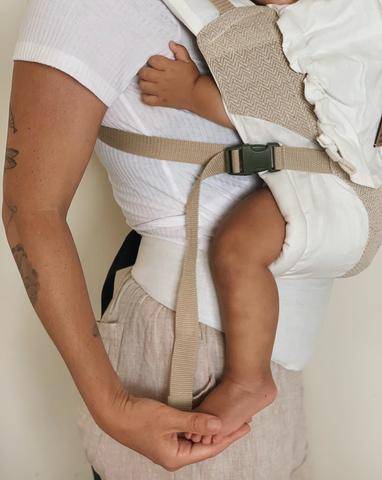 WHEN CAN MY BABY START USING THE SNAP
Knowing exactly when your baby is ready to use the snap carrier can be hard to determine without actually trying him in the carrier first.
Although the beginning weight limit is 5.5kgs, the best guide to go by is age of around 3-4 months.
What you are looking for is full knee to knee support.
You never want the carrier panel to go beyond your baby's knees forcing them to overextend into the air. There should be a natural bend at your baby's knee.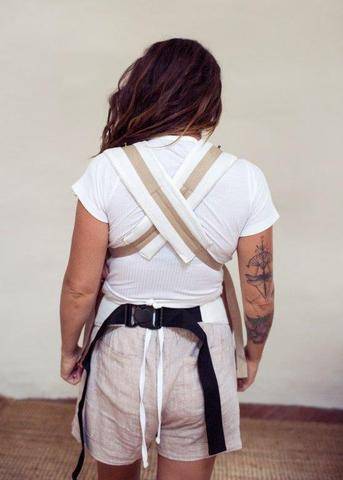 POSITIONING THE SHOULDER STRAPS
Once the carrier is secure, you will want to ensure the straps sit wide on your shoulders. Never allow the straps to rest on your neck as this will become uncomfortable quite quickly.
Always make sure you have tightened each strap evenly - you will know if you need to make any adjustments simply by the way the carrier feels, however you can double check by looking at the back straps in the mirror. If the X meets at the same place, then you are set to go.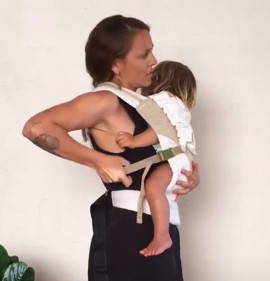 TIGHTENING THE STRAPS
When you are tightening the straps, always be sure to pull the slack out of the straps and not from the front of the carrier. This can pull bubs back into an curve and can also wear down the fabric underneath the buckles.
To do this, can you help lift bub up under her bum to loosen the extra slack in the straps and then adjust at the buckle.
PELVIC TUCK
A very simple tuck of the pelvis helps to curve baby's back into it's naturally rounded position and lifts the knees up higher than the bottom so the hips are in the hip healthy 'M' position.
Gently hold your baby's thighs in your hands. With a big scooping action, gently assist your baby's pelvis in tucking under and up towards you. This video from Brooke Maree is very helpful.