Meet Dana. Dana is mama to 1 year old Zion, with her newest little love on the way. She is a passionate creative writer and is bringing women together to embody their creativity through poetry and storytelling.

We chat with Dana about life in Sydney, the love of babywearing and we go deep into her passion of writing and find out where the inspiration comes from. She touches on women and creativity after birth, a topic that resonates deeply with so many, and shares the beauty of women gathering in circle to create. Come in and get to know Dana...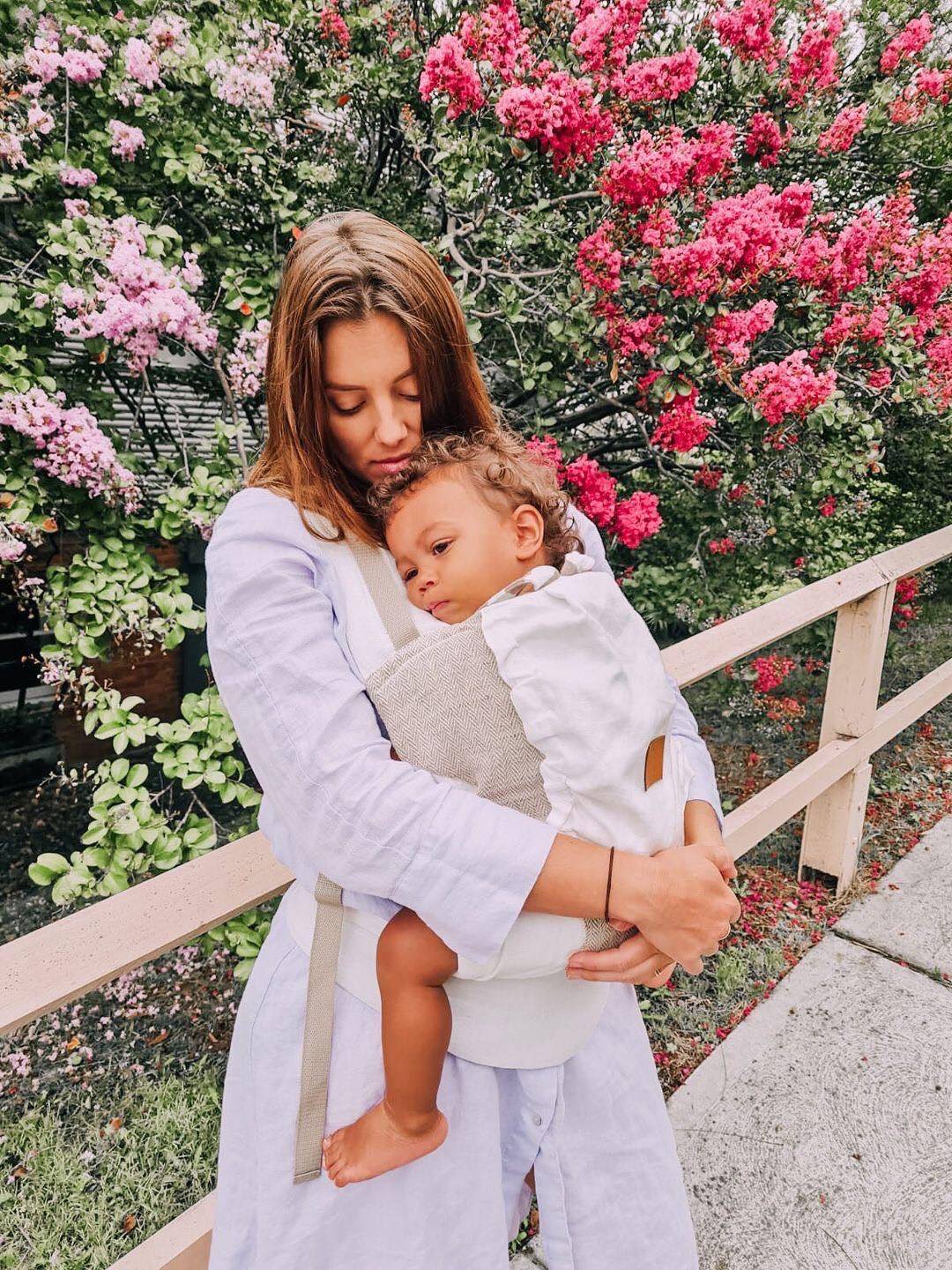 Who makes up your gorgeous family?
My husband Raian, my 14-month-old son, Zion, a baby girl due in May and of course, there's me too.
We're currently living in Neutral Bay, Sydney. My husband moved to Australia from Brazil five years ago. We both love grand adventures, so let's see where the wind blows us next.
What are some of your favourite adventures to do together?
Something as mundane as visiting the clothesline becomes an adventure with a toddler in tow. We love doing anything outdoors. Being in nature is so good for all of us. We try and make it a regular ritual to provide some escape from our teeny tiny apartment.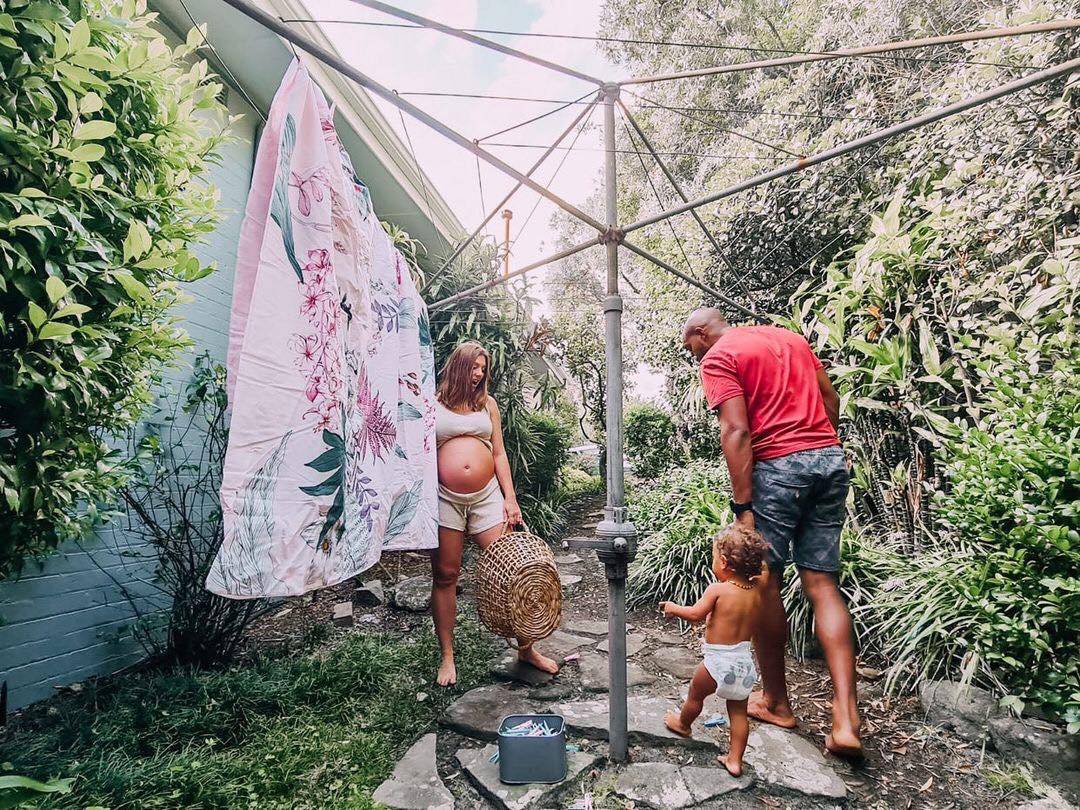 What has babywearing given to you and your family?
Babywearing is the solution that soothes my anxious heart when I imagine my life with an 18-month-old and a newborn. I will be buying the newborn insert for baby girl and I suspect she may just live in it, on me, permanently, even when I shower. It's incredibly practical and comforting to have the freedom to do things with your little love snuggled into your chest. Babywearing is a beautiful practice. For me, it feels natural, instinctive and somewhat primal. It's also a bonding ritual for the men too. My husband loves babywearing. And I must say he looks damn sexy doing it.
Your writing is so beautiful and powerful, when did this passion start and where do you gain inspiration from?
I've loved writing since I was a child. I studied journalism at uni and have mainly worked in PR since then, where the writing style was very corporate. Creative writing has always been a little hobby on the side. However, after I gave birth to my son my creativity really bloomed. It felt as though my spirit/soul/being got used to being in a permanent state of 'creating' while pregnant and then after Zion left my body, I had to keep bringing new ideas to life. Words have been pouring out of me ever since. This is actually a topic I'd love to explore more: How many women have become the most creative versions of themselves after giving birth? I also think being out of the corporate environment with its fast-paced, masculine energy, has allowed me to drop more into my feminine and more of a flow state, which cultivates my creativity. I currently write a blog, play around with poetry and am at the tail-end of penning my debut novel. Having such short windows (when baby sleeps) to write each day motivates me to not waste a single second. I'm more productive than ever. Inspiration comes from my own life experiences, my dreams, my friends and family and their stories, and sometimes I think I catch ideas that have come from somewhere above, somewhere outside of me, some greater external force.
You are hosting a Creative Writing Circle later this week, can you tell us more about this special event?
Yes, I am so excited to be hosting a magical, intimate women's writing circle in Sydney with talented writer Amie McNee as the guest speaker. She'll be sharing her incredible wisdom as a writing coach, book doula, author and podcaster. We will share our writing with each other for feedback too, which, as any creative would know, is a very brave thing to do. It will be a beautiful, sacred space full of love and support. I have wanted to organise a workshop for a while and call in my writing tribe. There's five million people living in Sydney and I know there would be hundreds of impressive women writers hidden within the mix. I want to find them and bring us together. As a writer, it's so important to be connected with other writers. You can talk to your friends and family 'til the cows come home, but you really need some like-minded connections so you can delve deeper into the topic of writing and encourage each other on your creative journeys. There are a few spots left at the workshop for any creative, Sydney-based Mummas who feel called to attend. There's already a great group of women attending, including poets, authors, copywriters, songwriters, academics, ex-journalists, short story writers, many of whom are working on their debut books, and I cannot wait to meet them. For more info, please visit my website:
https://www.allandnada.com/home/2021/2/11/womens-writing-workshop-1
To find out more about Dana's workshops or to book, just follow this link:
Congratulations on your soon to be earthside baby girl! How are you feeling about welcoming your second little love into the world?
Thank you. I am so excited to meet her and to find out who this sweet soul is that's chosen me, us, as her family. I'm also enjoying growing her for now. This pregnancy is flying. With my first pregnancy I always knew how many minutes pregnant I was. This time I have to check my calendar to see how many weeks I am. I'm delighted and terrified about becoming a mum of two. I'm nervous about being stretched too thin but ready to grow bigger with more love.
Finish this sentence: I am always inspired by…
The women who weave creative living and motherhood together. I haven't had creatively expressive women in my family lineage to show me how it's done, so I have had to look elsewhere for inspiration and guidance. Psychologist Carl Jung said, "There is no greater burden on a child than the unlived life of a parent." This resonates with me deeply. It's important to me that my babies see me living a fulfilled life, with many things that nourish my soul. Of course, my babies are my greatest joy, but not my only joy. My babies inspire me too. They give me a fierce tenacity to go after what I want. If I can't do it for myself, I have this extra reserve of strength to do it for them. If I want to tell them to chase their dreams, I must show them how it's done.
To follow along with Dana and her work, or to join her at one of her writing circles, you can find her on instagram.
Click the button below to be inspired...
Dana enjoys our Bohemian Sands Snap Carrier