We are so excited to bring you the story of Sophie Walker from Australian Birth Stories. Australian Birth Stories is a collection of birth stories from mothers all over Australia covering all aspects of childbirth. In our opinion, it is one of the most raw and authentic resources for expecting parents and birth professionals. And in fact, Sophie's work has been accredited by the Australian College of Midwives as certified professional development to all Australian Midwives.
Are you, or do you know an expecting or new mama? Well move in close, because Sophie shares many incredible resources and advice on how to navigate these challenging days through your pregnancy and post birth. She also shares her own birth story and her journey on bringing Australian Birth Stories to life.
Can you tell us about Australian Birth Stories?
After the birth of my first son Niko, I was in shock at how my birth had gone down. I went into my pregnancy and labour thinking I had all the tools and skills and I would need to have a perfect natural, intervention-free birth in the Mercy Family Birth Centre. My Mum had very quick labour with my sister and me and I was sure everything was in my favour to have the same. I went in to have a checkup when I was a few days overdue and the midwife checked and said, "your 4 cms dilated! You're going to have this baby this afternoon". Any midwives reading this, never predict and tell a mother when her baby will arrive!

After 36 hours of labour, an induction to speed up delivery due to 'failure to progress past 5 cms', an epidural, forceps and a post part hemorrhage - Niko was delivered blue and unresponsive. After my husband revealed the sex, my Mum ran crying out of the room to tell my stepfather father in the waiting room, "She's had a boy but he's not breathing!"

Although both Niko and I were fine after his birth, I couldn't quite work out what went wrong. What could I have done differently, did I go into the birth centre too soon? Should I have stayed out of the birth pool until later in labour? Was I weak choosing an epidural? SO many questions. Niko was 4.4kgs with a huge head and he just wouldn't come out.

After this experience, I went into my second pregnancy and labour determined to have a much better experience. I booked into the Mercy Birth Centre again and had a lovely team of midwives who supported me the whole way through my pregnancy. I had always been interested in birth and had already watched every episode of One Born Every Minute and Call The Midwife. I began obsessing over birth stories. I found several podcasts of birth stories online and I listened to every episode I could find. I found comfort in hearing how other women had coped and the decisions they had made in their births.

After an amazing drug-free fast delivery of my second son Louis, I felt compelled to start a Podcast of Australian Birthing Experiences. The shows I had been listening to had been mostly American and therefore their healthcare systems were quite different from ours in Australia.

I started the show in May 2017 by recording my own second birth experience, followed by my sister and some close girlfriends. I wasn't sure if anyone would listen to them. I figured worst-case scenario my mum is the only listener and at least my friends will have a nice record of their births as a keepsake.

Now 2.5 years later the show is about to have over 2.4 Million downloads and I have a waiting list of women wanting to come on the show of over 1000. Each day I receive letters of thanks from new mothers who have loved listening throughout their pregnancies and many even say they reflected back on previous episodes recalling what other women had chosen or done when faced with the same challenges in their labour.

It's quite a juggle getting the show up each week with three active little boys at home. I wouldn't have it any other way though. It feels a great honour that the women I interview entrust me to record and document their stories and I feel very proud to have created a resource for pregnant and new mothers to draw on during their journey into motherhood.

Where was your career path taking you before Australian Birth Stories, and what was the "light bulb" moment to bring it to life?
Before starting the podcast, I was working part-time at Cancer Council Victoria interviewing participants in a familiar cancer study. I started the podcast on the side and when he began to bring in more revenue than the part-time role I decided to take the leap and resign from my part-time role.

In this season of motherhood as a mother of 3 beautiful babes, as well as running a hugely successful podcast and business, what does self-care look like for you right now?
It doesn't look good hahaha. I really struggle to make time for myself. Usually when I have child-free time I work because I love what I do. This has lead to burn out more recently. Breastfeeding means I can't be away from Ottie for long stretches so I try and get a massage or go out for dinner when I can but it doesn't happen nearly as much as it should.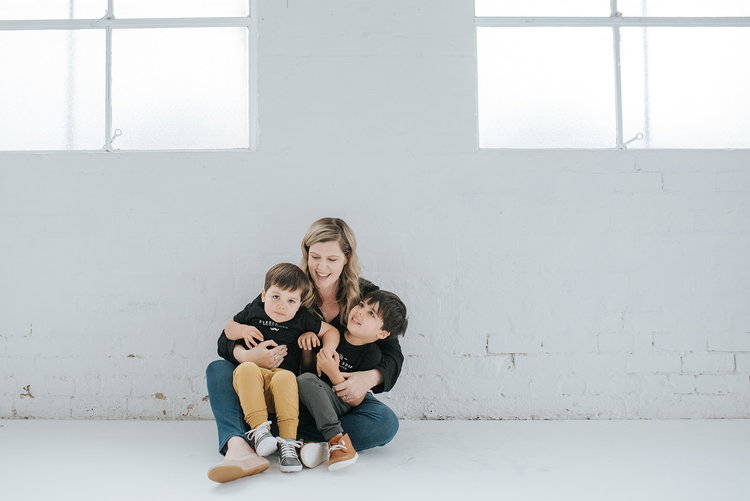 For the expectant parents, what types of knowledge would you advise these parents to educate themselves on first to give feelings of empowerment through their birth?
I think the number one tip would be to choose your care provider wisely. Know all the birthing options available to you in your area and check out various facilities before you decide. See if a midwifery care model would suit you or if you'd prefer to go with a private Ob. There are often many different options, public, private, birth centre, hospital, shared care through a GP, private midwifery care. I often hear women say things such as they wanted a water birth then discovered this wasn't an option in their hospital. Or that they later discovered their doctor or hospital had a very high induction and or caesarean rate. Gathering all this information, in the beginning, is very important and can have a huge impact on the way your birth can go.

What advice would you give to those expectant parents feeling anxious about birthing in a hospital during these times?

I have tried very hard to support the women in my community during this uncertain time by focusing on the things that they do have control over rather than what-ifs. They can educate themselves with the best possible understanding of the physiology of birth and how to use active birthing techniques to support the birth process and utilise the bodies natural hormones to assist in labour. I've also been sharing some fantastic online courses and resources women can use if their birth education classes have been cancelled.

I do think there are some beautiful silver linings to this current isolating situation. With many partners being forced to work from home they will now have much longer paternity leave periods where they can get to know their babies and support their partners in healing.I also love the idea of not having random guests dropping in who are dying to hold the baby. You often end up making cups of tea for them when really you'd prefer to have your feet up and shirt off to feed.

For those that may be disconnected with postnatal birth services, such as doulas, midwives and lactation consultants and of course their own families, do you have any resources or advice you can share on how these families can stay connected and feel supported during the newborn days while in isolation?

Maternal Instincts by Amberly. Amberly is a midwife and Lactation consultant who assists women in their breastfeeding journeys. She offered face time appointments.
PANDA offer supports remotely for women who are experiencing postnatal anxiety and or depression.

Physio Laura offers fantastic postnatal recovery programs for pelvic floor and postpartum physical recovery.

I offer my own 11 part audio series of interviews with health care professionals Postpartum Life After Birth and Discovering Motherhood.

Finish this sentence: I am always inspired by…

the energy level of my 4-year-old haaaaaaa

To stay connected with Sophie and the stories she shares, you can find her below:
Sophie enjoys our Earth Snap Carrier